Dear Sir or Madam,
The history of the Vinnytsia Cooperative Institute goes back almost 100 years, when it was founded in 1925.
As early as 1931, the first qualifications were obtained as a specialist in the catering trade.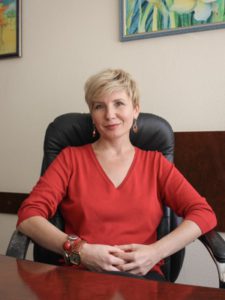 Today, the Cooperative Institute Vinnytsia – together with the vocational school for economics and law – is a modern educational institution that is developing dynamically and cultivating close and international cooperation – some representative examples:
In 2017 the "Double Diploma" program was introduced: a study program that is carried out both at the Cooperative Institute Vinnytsia and at one of the leading Polish universities – the University of Economics, Law and Medicine – in Kielce / Poland.
In 2019, the Polish Lyceum for Humanities and Information Technologies was founded in Vinnytsia – as a joint project of the Cooperative Institute Vinnytsia and the Government of the Republic of Poland.
The Vinnytsia Cooperative Institute is open to further international cooperation with companies, organizations and educational institutions.
Kind regards,
Vira Drabovska
PhD, associate Professor
Department of International Relations